Early Childhood: Social Emotional Learning
Early Childhood
Early Childhood: Social Emotional Learning
Social emotional competence is associated with many factors related to leading a productive, fulfilling life. Helping young children through the process of social emotional learning and setting them on the path to social emotional competence is an important role of educators. The conversations you have with young children about these topics, and the example you set, are critical elements in their healthy development. The goal of this course is to help teachers and others who work with young children understand the importance of social emotional learning and learn techniques they can use to help children achieve social emotional competence.
Course Authors
Lisa Combs, M.A. Special Education, CAS

Lisa Combs spent her teaching career in early childhood and elementary settings and also served as a Pupil Services Director. In this role she was responsible for the direction of early childhood grants and public and special education preschool programs. Lisa is now an instructor in the graduate certificate program for Early Childhood Intervention Specialists at Wright State University. She's also the author of the Best Friends Book Club Social Emotional Learning Program, as well as the related children's literature series, both published through Best Friend Books, LLC. In addition, Lisa is an instructional and behavior consultant, specializing in autism spectrum disorders and is the author of "Push to Open: A Teacher's Quick Guide to Universal Design for Teaching Students with Autism in the General Education Classroom" and "Gear Up for Success: A Three Tiered Planning Model for Supporting Learners on the Autism Spectrum.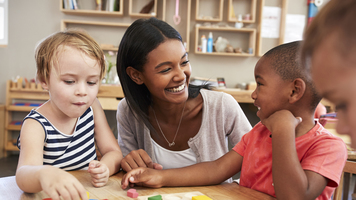 DURATION
34 minutes
LANGUAGES
English