Principals: Supervising Special Education Staff
Principals
Principals: Supervising Special Education Staff
Today's school principals are expected to be both managers and change agents. This requires championing staff excellence by focusing on continual improvement. Due to the complexity of their roles, special education teachers, in particular, require added assessment and guidance. This course is designed to give principals an overview of how to manage and supervise special education staff. Topics covered include the different roles within special education; components of special education instruction; the staff evaluation process; and strategies to help those struggling to improve and grow.
Course Authors
David F. Bateman, PhD

David F. Bateman, PhD, is a professor at Shippensburg University where he teaches courses on special education law, assessment and facilitating inclusion. He's a former due process hearing officer for Pennsylvania, and he uses his knowledge of litigation relating to special education to assist school districts in providing appropriate supports for students with disabilities. He has been a classroom teacher of students with learning disabilities, behavior disorders, intellectual disability and hearing impairments, and has recently co-authored the following books: A Principal's Guide to Special Education, A Teacher's Guide to Special Education, Charting the Course: Special Education in Charter Schools, and Current Trends and Legal Issues in Special Education.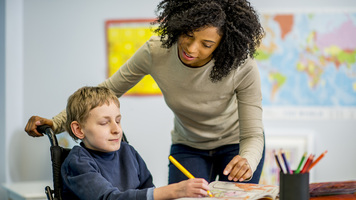 DURATION
38 minutes
LANGUAGES
English